Telephone
+44(0)1483 598420

Facsimile
+44(0)1483 566761
Postal address
for the Spike - Warren Road, Guildford, SURREY GU1 3JH
for Charlotteville Jubilee Trust - 12 Addison Road, Guildford, SURREY GU1 3QP
The Spike Heritage Centre is open for tours every Tuesday and Saturday from 10:00 until 15:30.
For group tours at other times please contact us on 01483 598420

Please get in touch if you would be interested in attending either of the following talks, both are New Poor Law related.
Tickets £5 but free to members and volunteers of the Trust.
The talks will be given by Adrian White who served in the merchant navy and is a keen historian. He regularly lectures for U3A and we have chosen a couple of subjects that will hopefully be of interest.
26th October 2017 19:30 at the Spike
Poor Boys for the Navy when Britannia Ruled the Waves
14th February 2018 19:30 at the Spike
Men are the Souls of Ships – The Training Ship Mercury – A History
Chronologically these two talks start in the 1850s with the introduction of the Reformatory School Act and Industrial School Act and eventually there were some 30 static 'school' ships around Britain's coasts plus a number of shore training establishments; Barnardo's for example had three at one time. Most of these were dependent on the Poor Law administrators or magistrates for their pupils. The Mercury was the exception to the norm for when it was founded in 1885 it was created to provided pre-sea education for poor boys of good character who were not sent by the Poor Law Guardians or the Courts. However, to maintain numbers until the 1920s up to 20 percent of its intake were recommended by Boards of Guardians, but the Mercury insisted that only the 'Best' boys would do. So the first talk examines the history and the normal operation of training ships and the second examines the exception and the outcome.
Arriving on tables near you soon!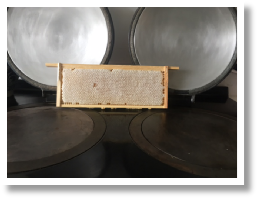 Pictured on the right is the first frame of honey produced by one of our two hives at the Spike.
We have removed the first seven frames of honey from the hive and the bees are cracking on making more! The frame shown weighs 1.4Kg so this one alone should be good for at least two 1lb (454g) jars of honey.
We will be 'spinning' the honey out in late August or early September. If you would like to come and watch and/or buy a jar, get in touch ASAP.
Two more interesting talks coming up!

Spooky Spike is back - 31st October 2017 at THE SPIKE!
Come to the Spike 18:00 and 19:00 on Halloween Eve for our popular ghoulish quiz. Ask the characters you find questions and win a prize! For 7 to 11 year olds accompanied by parents with strong nerves - this is really SPOOKY - £5 per child.