Well here we are. Nearly a whole year has passed by and there have been many changes that could have affected this year's races. There was concern last year that there might be a batter shortage should we leave Europe which would result in the cancellation of this year's races. Fortunately, even though we have left the European Union, batter supplies appear to be unaffected and so February 25th 2020 will see the first Guildford Pancake Races outside the EU for 47 years! Rest assured the quality of the batter will still be sufficient to make great racing pancakes.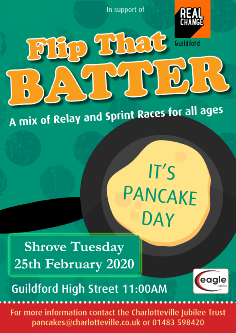 Our Chosen Charity This Year
This year both the Charlotteville Jubilee Trust and Eagle Radio have chosen local charity Real Change Guildford as our supported charity.
Real Change supports the homeless in Guildford with easy to apply for grants that help them with training courses, household items, clothes for interviews and even the deposit for a home.
This is a fantastic initiative and, although only just a year or so old, has already supported many of the less well off in the Borough.
If you would like to find out more, or wish to make a donation, then visit: www.realchangeguildford.co.uk

A Huge thank you to all our sponsors and competitors last year - 2019
Together we managed to raise £722 for Guildford Young Carers, this was then match funded by the Borough Council making an overall donation of £1444 a truly fantastic sum!
Thank you to the County Club for covering the costs of the Guildhall and as ever to Eagle Radio and PG for their fantastic support.
Here's to hoping we can do something similar this year!
These races are entirely self funded and run by volunteers both from the local community and from far afield. We rely on the generosity of our many sponsors and the keenness of the town community to keep the races as an enjoyable annual event with many people taking part.
We NEED: