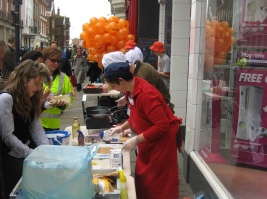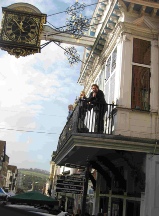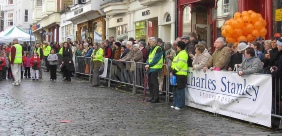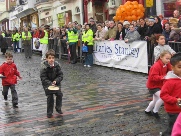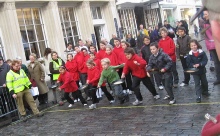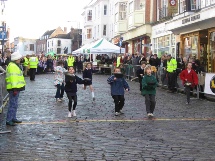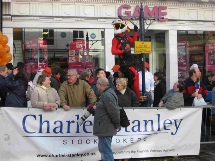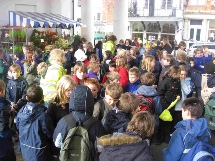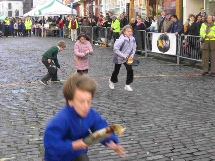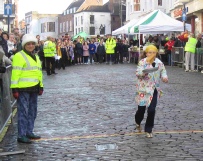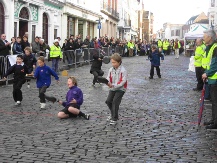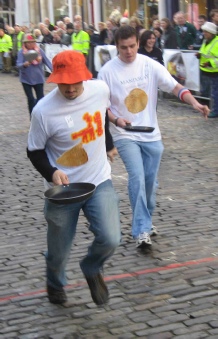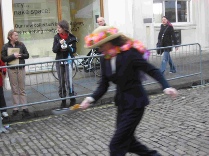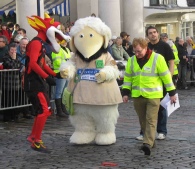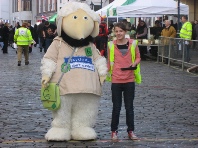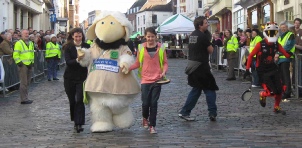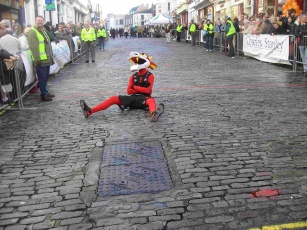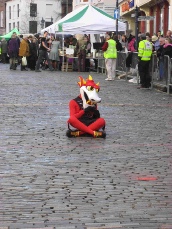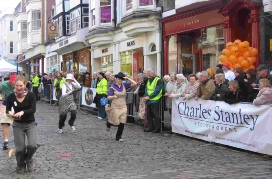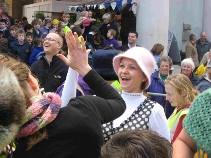 Leading the way - Sandfield School got off to an encouraging start showing what fun was to come!
Thank you to:
Guildford Borough Council
96.4 the Eagle
Sandfield School
Holy Trinity School
The mascots
Guildford in Bloom
and all the many people who helped and took part
You made this a very special day for Guildford
Anne Milton MP helping Tony Scott with the free pancakes
Thanks PG for your sterling commentary
Sandfield finally got the hang of it
Briskly followed by the older children of Holy Trinity who had a much more gung-ho approach to pancake racing and there's that dragon messing around again
Thanks go once again to our sponsors, without them the races would not be the event they are:


Waterstones - For donating a book to every child who took part
The Mandolay Hotel - A Saturday night in the bridal suite as a star prize
Tony Scott - The all essential weekend tickets to Guilfest!
The Tudor Rose Restaurant - Four meals for two including a bottle of wine
Ringway Highway Maintenance - For donating the crowd control barriers
Charles Stanley, Stockbrokers - Prizes of Champagne and T-Shirts
The Robin Hood - Sunday lunch for two including a bottle of wine
Toni & Guy - A wash cut and blow dry
Going flat out in the Mandolay Sprint
And just as things were settling down, the town centre manager sneaked past, frying pan in hand, wearing a really pretty hat. And so the trend was set - Ascot anyone?
Scorcher goads the Womble
Undeterred the Womble gets some help
Scorcher soon tears down the track but is disqualified for ditching his frying pan
The Mascot Race
Every picture tells a story. And this is where Scorcher got his comeuppance
And this all resulted in the big sulk
Never mind Scorcher, there's always next year
The Housewife's Race
After the vet had taken care of Scorcher it was time for the final event - the prize; two weekend tickets to Guilfest courtesy of Tony Scott
High Fives for the happy winner