We were privileged to receive a visit from HRH The Duke of Kent KG in February 2009. It was still cold outside and there was plenty of snow about. We had been given some notice of his arrival and so had prepared for everything we even had gritting lorries on standby in case it snowed again.


The visit had been planned to the last details by Josh, who enjoys doing such things.
So what is it about British Gas (or whatever they are now called) that they chose February 10th 2009 to dig up the gas main in Warren Road? They did a good job, rupturing the pipe right by the entrance gate 45 minutes before the arrival. Fortunately, emergency teams were on hand and the pipe was made safe with 5 minutes to spare, trouble is, they then isolated the supply to the Spike, for safety reasons, so there was no heating in the Community Centre for the entire visit.
You really can't plan for everything can you?


Other than that the whirlwind tour went very smoothly.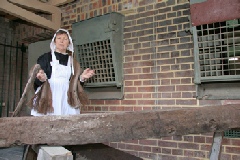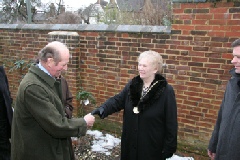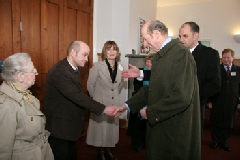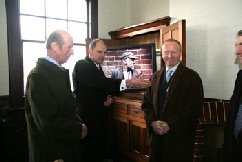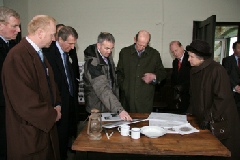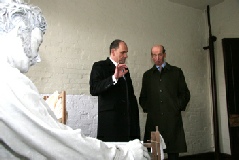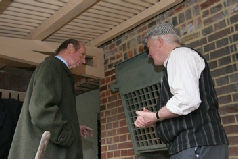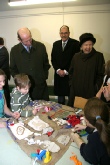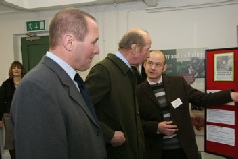 On arrival, greeted by Guildford's Mayor, Jennifer Jordan and the CEO of Guildford Borough Council, David Hill
Once inside was introduced to a representative core of our volunteers and staff.
to the Heritage Centre to meet the builder Stephen Lampard, architect Mark Furner, project manager Max White and GBC's conveyancing solicitor Michael Giles.
Serious talks from Mark on what a poor condition the building was in
Into the washroom for a meaningful discussion on treatment of vagrants and the tramp picking loose skin from his blistered feet.
A Dutch vagrant was on duty to show the Duke the work cells.
And Gordon explained the multipurpose stone breaking and wood chopping grills.
Back inside to see members of the Saturday Club and what they have been up to.
Meeting Charlie McCaferty to talk about today's poor and homeless and how charities like Charlie's help them out.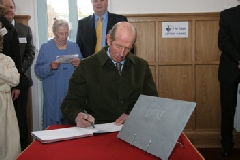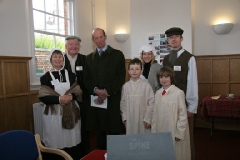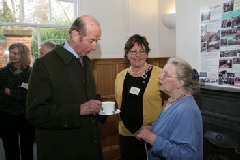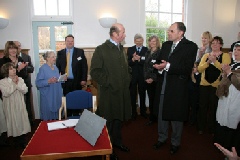 Back to the Community Centre and down to the real work of unveiling the plaque and signing the guest book.
Tea with Miss Brewer and Mrs Redpath.
A warm thank you for his visit from the Chairman and applause from all.
Parting shot, taken with the volunteers who had dressed up specially for the occasion.