We were very lucky that the Pranksters chose the Spike for their Play in a Day this year. Very appropriately they had chosen Jack London's People of the Abyss, which tells of this journalist's experience in disguise amongst the homeless of east London in 1903 and what a grim picture it paints of a very harsh way of life. A recommended read for anyone interested in the Poor Laws and the affect they had on the homeless. Money raised from the event was given to local charity Guildford Action who help to look after today's homeless of Guildford.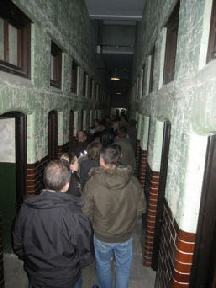 The Cast
in no particular order
JACK LONDON - Jonathan Cotterill
VOICE 1 - Kathryn Morris
VOICE 2 - Emily Lawrence
VOICE 3 - Graeme Aston
VOICE 4 - Kenzie Travers
VOICE 5 - Tony Carpenter
VOICE 6 - Bob Horn
VOICE 7 - JP Judson
VOICE 8 - Kate Webb
VOICE 9 - Jonathan Young
VOICE 10 - Alex Mircica
DIRECTED BY - Marie Gardner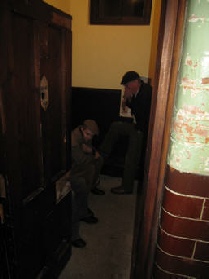 Guests were sternly escorted down the east wing corridor to the Park Room in the west wing.


On our way we saw some pretty rough types waiting in the cells for the night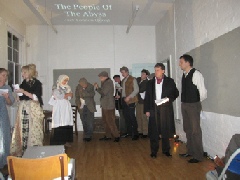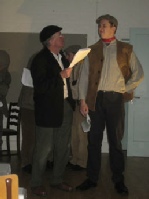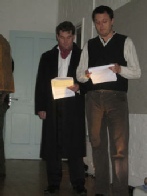 And when we got there and had settled down ... there they were, rough and ragged and waiting to get in for a night's kip.




And there was Jack, big and American, finding out from this old sailor how he came to be queuing for a bed for the night.
And there they were. the people who ran the place.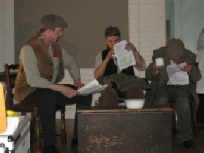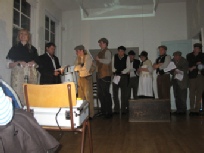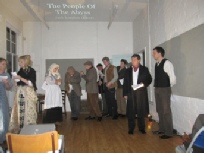 Jack had a pretty serious chat with a couple of old codgers even taking them for a cup of tea in order to find out more.
Once inside the Spike, they queued for their skoff.
Before having a fitful and restless night's sleep.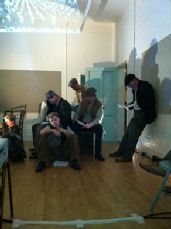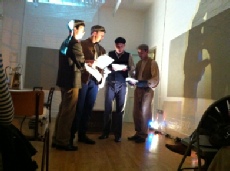 Minimalist set design worked really well.
Pretty good looking workhouse maids as well!


The lighting was really effective.
A big thank you to the Pranksters for a very entertaining evening and for helping to raise nearly £140 for Guildford Action.